Controversial Statements Lead Some Fans to Call for Ban of Kanye West's Music on Streaming Platforms
Kanye West's recent controversial statements have sparked outrage and calls for action. One such action is a petition started by Nathan Goergen on change.org, calling for a complete ban of Kanye's music on all music streaming platforms, including Apple Music, Spotify, and Amazon Music.
The petition argues that Kanye's recent statements praising Hitler and denying the Holocaust, as well as other harmful and anti-Semitic remarks, have no place in society. It calls for the removal of all of Kanye's solo albums and singles from the platforms.
The petition has garnered support and debate, with some fans agreeing that Kanye's views are reprehensible and should not be supported, while others argue that a ban on his music is unnecessary and even infringes on freedom of speech.
Ultimately, the decision to ban Kanye's music from streaming platforms rests with the platforms themselves. While there have been instances of artists being removed from platforms for similar reasons, such as R. Kelly, it remains to be seen whether Kanye will face similar consequences.
The controversy surrounding Kanye's statements and the potential fallout for his music career highlights the broader debates around free speech and accountability in the entertainment industry.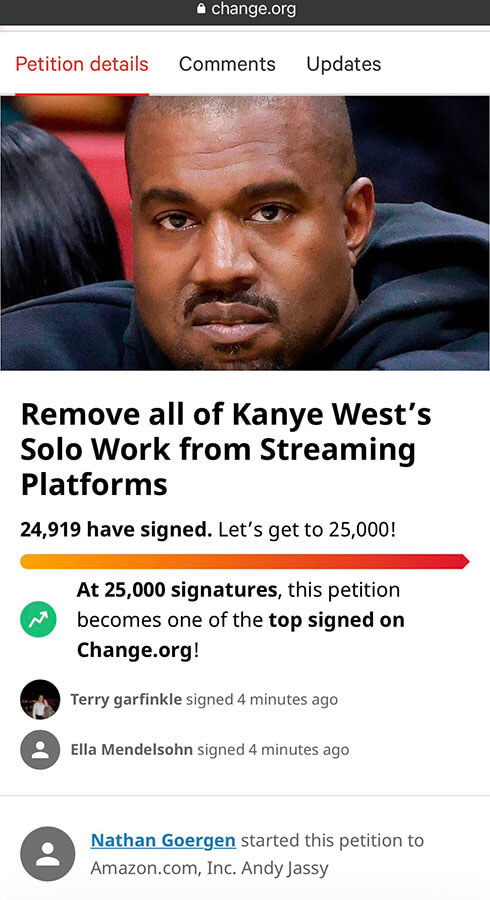 change.org