As the highly-anticipated October 29th fight between Jake Paul and Anderson Silva approaches, tensions are high and the trash talk is heating up. Jake Paul, the social media influencer turned boxer, has promised to "respectfully" knock out Anderson Silva, a former UFC champion and MMA legend.
Despite Silva's pro boxing experience and recent split decision win over Julio Cesar Chavez Jr, the 47-year-old fighter faces a significant age gap against the 25-year-old Jake Paul. However, Silva's long and accomplished fighting career makes him a formidable opponent.
In a recent social media post promoting the fight, Jake Paul boldly declared that he plans to knock out "the greatest striker in UFC history" in a respectful manner. The post has garnered significant attention and has fans of both fighters excited for the upcoming showdown.
The Jake Paul vs Anderson Silva fight is shaping up to be an intriguing battle between an up-and-coming boxer and a respected MMA icon. With both fighters bringing their unique skills and experience to the ring, it's sure to be a memorable night for combat sports fans.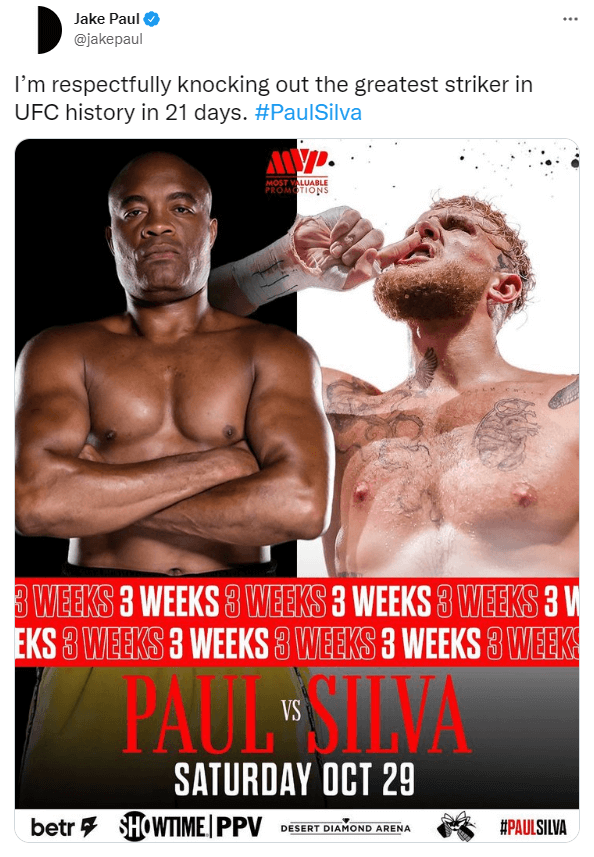 Watch the anticipated boxing match Saturday, October 29 on SHOWTIME PPV.