For sneakerheads, keeping their prized kicks clean can be a daunting and frustrating task. With so much to do and so little time, it's difficult to carve out hours of the day dedicated solely to cleaning sneakers. However, wearing dirty shoes outside is simply out of the question. So, what's the solution for sneakerheads on the go? Sneaker wipes.
Sneaker wipes offer the perfect fix for those rushed moments when there's no time for an intensive and expensive sneaker cleaning kit. But not all wipes are created equal. Most antibacterial wet wipes, for example, can actually harm the texture of your sneakers. That's why it's crucial to use specialized sneaker wipes designed specifically for cleaning shoes.
Let's take a look at 10 of the best sneaker wipes available in the shoe cleaning marketplace today:
CleanKicks Shoe Cleaner Wipes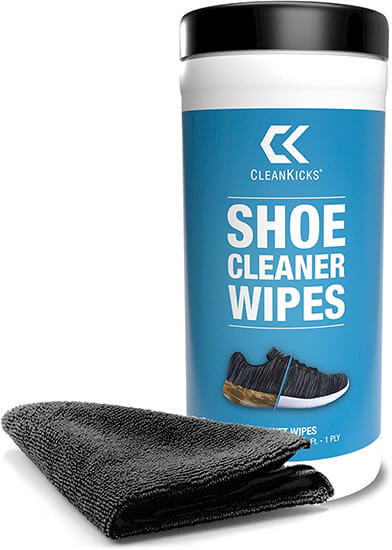 Amazon
When it comes to sneaker cleaning, CleanKicks stands among the top brands in the business. What sets CleanKicks apart is their sole focus on shoe care, with the entire product line dedicated to this niche. Dubbing themselves as the "leading premium shoe care company," CleanKicks more than lives up to their reputation.
The CleanKicks Shoe Cleaner Wipes boast a 4.5-star rating on Amazon, with over 1,350 reviews. This impressive feedback positions it as one of the highest-rated sneaker wipes you can find on Amazon. If this isn't enough to convince you, the bonus free microfiber towel for detailing that comes with every package certainly sweetens the deal.
Buy: CleanKick Shoe Cleaner Wipes (30 wipes) – $15.97
JasonMarkk Quick Wipes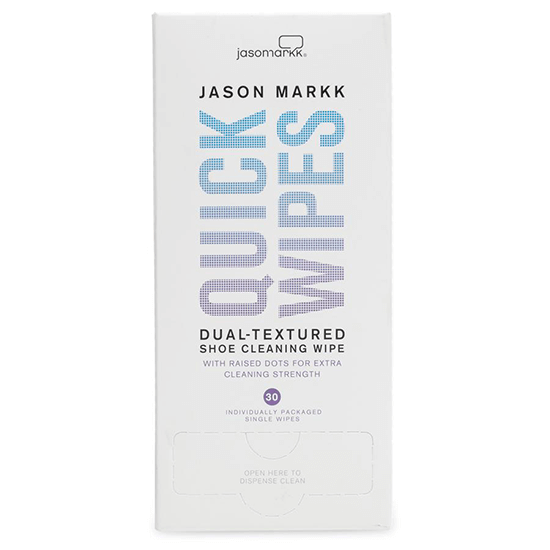 Amazon
JasonMarkk is another reputable brand for sneaker care, with their products even being carried by major shoe retailers like FinishLine. The endorsement from such a company speaks to the quality and reliability of JasonMarkk products.
The JasonMarkk Quick Wipes are a stand-out item, featuring a dual-textured design that effectively tackles even the toughest stains. The soft side of the wipe is perfect for general cleaning, while the raised dot side provides extra scrubbing power for stubborn marks.
What's more, the 30-pack comes in a stylish dispenser box, with each individual wipe neatly wrapped for maximum convenience. This makes it easy to stash a wipe in your car or backpack to ensure your kicks stay clean and fresh every day of the month.
Buy: JasonMarkk Quick Wipes (30 wipes) – $20
Tight Wipes Sneaker Wipes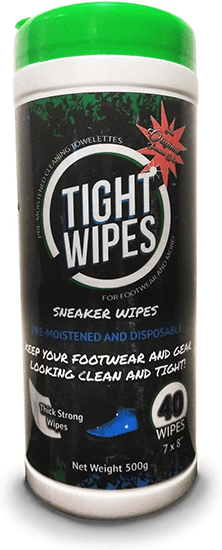 Amazon
The New York sneakerhead community is massive, which is why supporting a fellow New Yorker is a great opportunity for those in the area. Tight Wipes Sneaker Wipes are a prime candidate for this, having been developed in Staten Island, New York by sneakerheads in partnership with chemical engineers.
Tight Wipes come in a convenient canister, making it easy to keep them by your door and quickly give your kicks a wipe-down before heading out. With their New York roots and collaborative design, choosing Tight Wipes is a great way to support a local business while keeping your sneakers in top-tier condition.
Buy: Tight Wipes Sneaker Wipes (40 wipes) – $16.99
Simple Shine. Shoe Wipes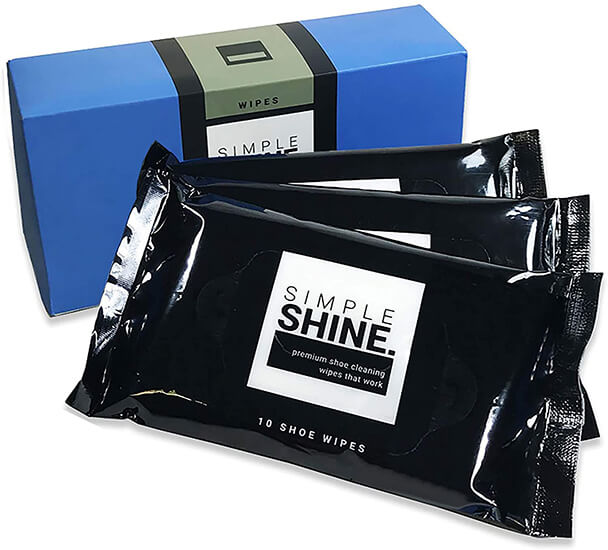 Amazon
For those feeling patriotic and looking to support American-made products, Simple Shine Shoe Wipes are a great option, as they are produced in the USA. What's more, these wipes are versatile and can be used on various types of footwear, from dress shoes and loafers to sandals, pumps, flats, and boots.
Not only are Simple Shine Shoe Wipes multi-functional, but they are also remarkably affordable. At just $10 for 30 wipes, this product provides a top-quality cleaning solution at an unbeatable value. So if you're looking for a reliable and affordable cleaning wipe that supports local manufacturing, Simple Shine Shoe Wipes are a great choice.
Buy: Simple Shine. Shoe Wipes (30 wipes) – $9.99
GOAT Premium Shoe Cleaner Wipes
Amazon
For those unfamiliar, GOAT stands for "Greatest of All Time." While it may be difficult to determine if their Premium Shoe Cleaner Wipes truly deserve that title, they are certainly a top contender in the sneaker wipe game.
Earning the tag of Amazon's Choice amidst fierce competition is no easy feat, but GOAT has accomplished just that with their Premium Shoe Cleaning Wipes. With a 4.5-star rating and over 550 reviews, these wipes are a safe bet for leaving your sneakers looking their best.
And for those sporting leather sneakers or other materials, GOAT's promises have got you covered. Their wipes are formulated to work on a range of fabrics including leather, nubuck, suede, canvas, vinyl, mesh, and knit – making them a versatile and worthwhile investment for any sneakerhead.
Buy: GOAT Premium Shoe Cleaner Wipes (24 wipes) – $15.89
Deadstock Shoe Cleaner Wipes

Amazon
It's rare to find a company that truly stands behind its product with a 100% money-back guarantee, but Deadstock Shoe Cleaner Wipes does just that. When a brand puts their promises to the test like this, it's hard to argue with their claims.
Deadstock confidently touts their wipes as some of the best on the market, and with their money-back guarantee, it's a claim that holds weight. Sneakerheads looking for top-quality cleaning wipes can invest in Deadstock with confidence, knowing that if they're not fully satisfied, they can get their money back. This level of dedication to customer satisfaction is a testament to Deadstock's commitment to producing a top-quality product.
Buy: Deadstock Shoe Cleaner Wipes (30 wipes) – $15.99
Crep Protect Ultimate Shoe Cleaning Wipes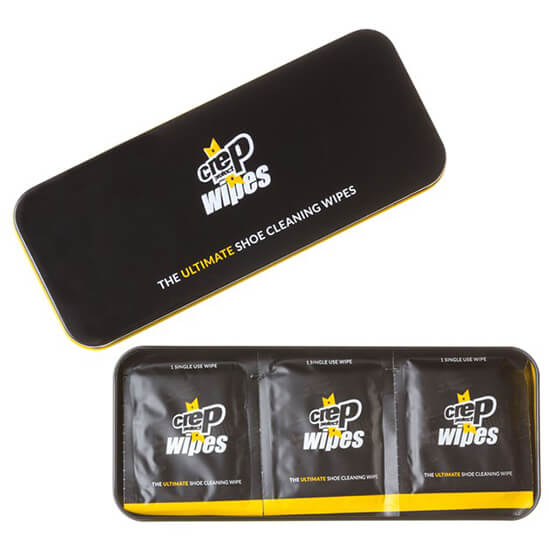 Amazon
You may have heard of the company that sent a pair of adidas Yeezy Boost 350 v2 sneakers to space – well, that company also produces their own highly regarded sneaker wipes. Crep Protect has been a major player in the sneaker cleaning industry for a while now, with their products even appearing in popular shoe retailers like Foot Locker.
While they are best known for their spray-on coating that repels liquids and prevents stains, Crep Protect also boasts a stellar reputation for their Ultimate Shoe Cleaning Wipes. With these wipes, you can trust that your sneakers are getting the deep clean they need to stay looking fresh and new. When it comes to sneaker care products, Crep Protect is a name you can trust.
Buy: Crep Protect Ultimate Shoe Cleaning Wipes (12 wipes) – $10
Quick Wipes Shoe Wipes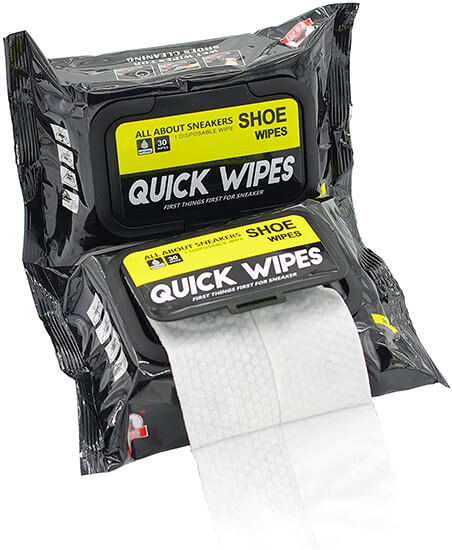 Amazon
If you're on a budget but still looking for a top-rated sneaker wipe, look no further than Quick Wipes Shoe Wipes. These wipes have earned an impressive 4.5-star rating on Amazon with over 1,400 reviews, making them the most highly rated and affordable option on this list.
Notably, the product demonstration photos show the Quick Wipes being used specifically on YEEZY sneakers, which has received positive feedback from many ratings. If you are a YEEZY owner searching for an effective cleaning solution, these wipes could be the perfect fit for you. With thousands of positive reviews and a wallet-friendly price, the Quick Wipes Shoe Wipes are a solid choice for any sneakerhead.
Buy: Quick Wipes Shoe Wipes (60 wipes) – $15.90
SneakerRescue Cleaning Wipes
Amazon
For those who prefer to clean their sneakers with all-natural ingredients, SneakerRescue Cleaning Wipes are an excellent choice. These wipes are advertised as multipurpose, meaning they can clean not only your sneakers but also shoe bags, leather jackets, and other items.
What sets SneakerRescue apart is their use of all-natural ingredients, which means you won't need to wash your hands after use as the lack of harsh chemicals makes them harmless to your skin. Not only are they effective at cleaning, but they're also environmentally friendly. If you're conscious about using eco-friendly products, SneakerRescue Cleaning Wipes are definitely worth considering.
Buy: SneakerRescue Cleaning Wipes (15 wipes) – $8.29
Sneaker LAB Sneaker Wipes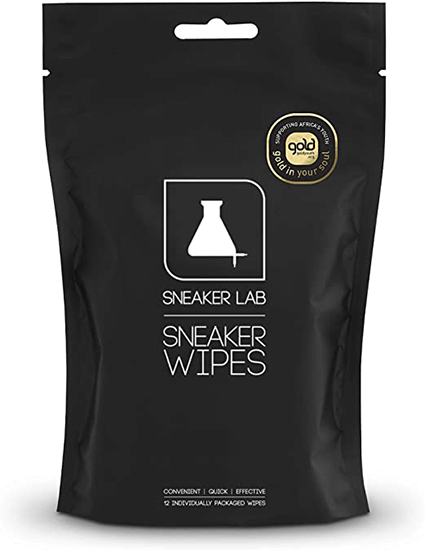 Amazon
Sneaker LAB is a brand with a unique story behind it. Hailing from South Africa, they offer their products to over 60 countries worldwide. For those environmentally-minded sneakerheads out there, Sneaker LAB's commitment to sustainability is worth noting – all of their products, including their sneaker wipes, are eco-friendly.
Sneaker LAB has earned Green Tag certification and packages their products in recyclable materials. Their cleaning solutions are soap-free and contain no harsh chemicals, making them biodegradable. If you're on the lookout for an environmentally friendly cleaning wipe, you can feel good about choosing Sneaker LAB's Sneaker Wipes.
Buy: Sneaker LAB Sneaker Wipes (12 wipes) – $10.90
With some great options for sneaker wipes in your arsenal, it's time to put them to work! Check out the footwear news section for some awesome sneaker finds, and make sure to keep your kicks looking fresh and clean with your new cleaning wipes. With the right care, your sneakers will stay in top-notch condition for years to come.