Rolling Loud, one of the biggest hip-hop festivals in the world, is known for its significant social media presence and important announcements. Recently, an aspiring artist from Southern California asked the official Rolling Loud Twitter account how they could get an opening spot at the festival.
However, Rolling Loud's response was brutal and straight to the point: "Get big." While some fans found the response humorous and in line with the festival's no-nonsense attitude, others criticized Rolling Loud for being dismissive of emerging talent.
The incident highlights the industry's harsh reality and underscores the challenges that up-and-coming artists face trying to break into the music industry. While Rolling Loud is known for supporting emerging artists, it's important to remember that their reputation and influence can have a significant impact on aspiring musicians. Ultimately, it's essential to provide more accessible platforms for young talent to showcase their work and further their careers.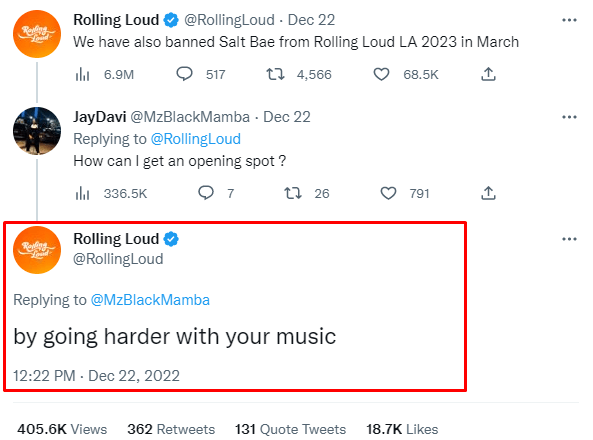 Ouch.