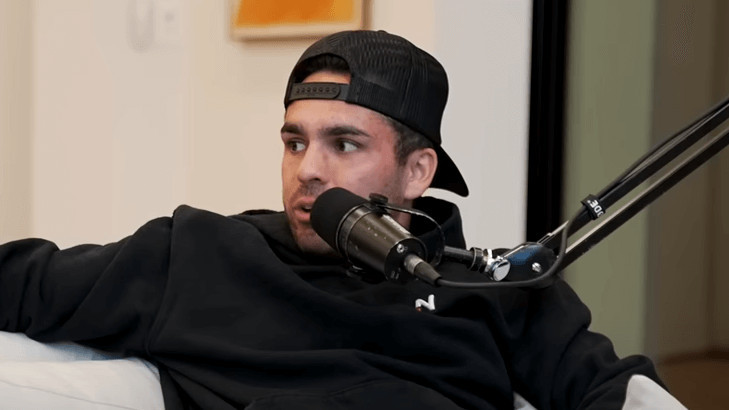 The Full Send Show
The Full Send Show is a podcast that has a huge fan base, especially among young men between 18 and 35 years old. It was created by Kyle Forgeard, who is also the founder of 'Full Send Podcast'. The show is known for its funny and informative discussions on various topics. In this article, we will explore the history and popularity of 'Full Send Podcast'.
What is the Full Send Show?
The Full Send Show is a weekly podcast that features Kyle Forgeard and his friends (usually from the Nelk Boys) as hosts. They invite a special guest every week and talk about different subjects, from entertainment to sports to dating. The show has a unique style of humor and knowledge that attracts many listeners. It has over 1.8 YouTube subscribers as of now, and it keeps growing every day.
The Full Send Show has been running for more than a year and a half, and it has become one of the top podcasts in the world. It has a loyal following of Nelk Boys fans, and it has received a lot of media attention. From appearing inRolling Stoneto being referenced inTime Magazine, 'Full Send Podcast' has become a powerful media platform.
How 'Full Send Podcast' Began
Kyle Forgeard started the Full Send podcast in 2021. He was already a successful businessman, having built several profitable businesses around the Full Send and Nelk Boys brands. He wanted to try something different, so he launched a podcast. Kyle admitted that he was inspired by Logan Paul's Impaulsive podcast to start his own podcast.
In the beginning, the podcast had Kyle, Bob Menery and another host who changed every episode. However, Bob Menery would eventually leave the podcast. His final appearance was on episode 42 with guest Logan Paul. After that, he never returned to the podcast and a public social media feud over money ensued.
The Success of the Full Send Podcast
The Full Send podcast quickly became one of the best podcasts in the world. People loved the show's combination of comedy and celebrity guests, and it became very popular. Guests like Antonio Brown helped the podcast thrive earning over 4.4 million views on YouTube alone for that episode. They also managed to get the 45th President of the United States Donald J. Trump as a guest which took the podcast to another level. That interview with Trump got over 5 million views in less than 24 hours but was soon removed. However, the impact was already made.
Besides famous guests, the podcast's success is also largely due to Kyle's charismatic personality and his connection with listeners. The podcast's high-quality content and engaging conversations have also helped it grow.
Changes and Future of the Podcast
The Full Send podcast has changed a lot since it started. It has gone from a relatively small show to one of the most popular podcasts in the world. What began as a show with guests that were Kyle's friends, has become a media destination for some of the biggest global figures in the world such as Elon Musk. For many people, 'Full Send Podcast' is more than just talks; it's an adventure.
The podcast has a promising future. It would not be shocking if more politicians and celebrities join the show as guests. With only two years of experience, you can anticipate the Full Send podcast to compete with podcast giants like 'The Joe Rogan Experience' and 'The Daily soon.